sprezzatech blog #000E
SprezzOS 0.0.0 drops, as scheduled, for general use.
Fri, 05 Oct 2012 03:31:41 -0400
ATLANTA— Supercomputing startup Sprezzatech parted the veil a bit further today on its "SprezzOS" high-performance computing environment
[1]
. Enthusiasts can download a "fully functional final preview" of
SprezzOS 0
(codenamed "Turing") from Sprezzatech's site or BitTorrent.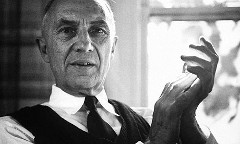 William Carlos Williams applauds a particularly well-poached egg.
Founder Nick Black announced
"an audacious gestalt: proof by counter-construction that vendor lock-in, restrictive licensing, and closed source are, at best, orthogonal regarding our unceasing endeavors, this noble goal: to tear the roof off the sucka."
He then smoked forty-eight cigarettes.
Sprezzatech is proud to announce general release of our signature SprezzOS™ computing environment, available via the web or BitTorrent for installation on 64-bit x86 processors. SprezzOS is offered to the public in the hope that it might make more felicitous the day-to-day lives of high-performance computing professionals, and strengthen our discipline. Furthermore, it was felt that the demographic for which Debian Unstable is insufficiently hardcore had slim pickings among available offerings.
SprezzOS is not about bringing new people to Linux. SprezzOS is about putting smiles on the faces, and songs in the hearts, of those long in the know. Our target audience consists of those people wandering already, by their very nature, down circuitous paths leading inexorably to SprezzOS. You can
read more here
. Have fun.
In SprezzOS 0 ("Turing"), you'll be delighted by...
BEAUTIFUL FONTS: One of the few distros to be shipping HarfBuzz OpenFont rendering within a current pangocairo. Probably the only distribution pairing HarfBuzz with the Infinality patchset to the FreeType Project. High-quality fonts ranging from Adobe's recently opened Source Sans Pro to Ralph Levein's Inconsolata to the venerable Terminus are installed by default, as are the Microsoft Core Fonts and Mathematica Fonts.
ADVANCED BOOT: Socket activation, readahead and parallel initialization are embraced. Initramfs is eschewed. UEFI is fully supported using GRUB2 or Linux's native stub EFI handler. ZFS-based boot is supported, and we're leading the design of cgPXE (Collaborative.gPXE).
BLEEDING-EDGE KERNEL: Hot on the heels of Monday's release, we're shipping 3.6.0 with ZFS 0.6.0-rc11 included by default. We're fighting bufferbloat with CODEL congestion control. The SprezzOS 0.0.0 release was delayed several days, in part, because I had to patch up ZFS for the 3.6.0 kernel.
VOLUME/FILESYSTEM TECHNOLOGY: Our Growlight disk management tool supports arbitrary aggregation creation and all the partitioning / filesystem setup support you'd expect, while also ensuring top performance via careful conformance to best practices regarding alignment, volume management, bus bottlenecks, and the unique demands of SSDs.
CPUID-DISPATCHED LIBS: To the best of my knowledge, we'll be the only distribution making extensive use of microarchitecture-specific compiler directives — to everyone else, that Ivy Bridge might as well be a Core 2 Duo.
THE SWEET TASTE OF FREEDOM: Not only is it free of cost, you can read, modify, spindle, fold or mutilate the source as you please. This is how computing is meant to work, and if you're not accustomed to working in an open environment...well, we pity you folks as one pitied the Soviets. The difference between any two closed environments is negligible compared to the deep, still ocean between open and closed computing.
Major work of course
remains to be done
, and always will. SprezzOS 1.0.0
("von Neumann")
is scheduled for release 2012-12-25.
I've used Linux, exclusively, on both my workstations and laptops for over 15 years now — almost half of my life. With not just clear conscience, but fervor, I assert that SprezzOS 0 is already among the finest existing Linux experiences, and predict that you'll see the big distros looking to us as a trendsetter by year's end. No more aesthetic packrape perpetrated by hordes of conflicting visions. When they debate, we will write code. When they Vote on Resolutions, we will write code. While they reconcile irreconcilable ideologies, we will replace broken code with working code. While they build societies, we will build computers.
Fuck a G-ride: I want the machines that are makin' 'em.
We'll be opening up the bugtracker and wiki to
OAuth
/
OpenID
-based logins...when we figure out how, hopefully soon. I've opened the Bugzilla, but the wiki is still locked down for write; you'll one fine day be able to file/track bugs and edit the wiki using your GitHub(?) and Facebook(?) accounts, etc. I need to read up on OpenID and all that crap before doing this to ensure I don't implement it in a brain-damaged fashion.
When asked whether this "code it all and let the users sort it out" vision could work in the large, Mr. Black replied, "for those who find my taste less than impeccable, I've paid for another hour of open Drano® bar at the cleaning cart. Perhaps you'll find corrosive
[2]
alkalies more pleasing to your palettes. Haters to the left!" Using his last Newport, he lit and smoked his cellular device.
"Anyway, gotta hop." He smiled for the first time. "There's code to write."
You want complete text? I've got complete text! "When he was younger, and I was younger, I used to know Allen Ginsberg, a young poet living in Paterson, New Jersey, where he, son of a well-known poet, had been born and grew up. He was physically slight of build and

Allen Ginsberg seems irritated despite his hat's undeniable festivity. Moloch!

mentally much disturbed by the life which he had encountered about him during those first years after the first world war as it was exhibited to him in and about New York City. He was always on the point of 'going away,' where it didn't seem to matter; he disturbed me, I never thought he'd live to grow up and write a book of poems. His ability to survive, travel, and go on writing astonishes me. That he has gone on developing and perfecting his art is no less amazing to me.

Now he turns up fifteen or twenty years later with an arresting poem. Literally he has, from all the evidence, been through hell. On the way he met a man named Carl Solomon with whom he shared among the teeth and excrement of this life something that cannot be described but in the words he has used to describe it. It is a howl of defeat. Not defeat at all for he has gone through defeat as if it were an ordinary experience, a trivial experience. Everyone in this life is defeated but a man, if he be a man, is not defeated.

It is the poet Allen Ginsberg, who has gone, in his own body, through the horrifying experiences described from life in these pages. The wonder of the thing is not that he has survived but that he, from the very depths, has found a fellow whom he can love, a love he celebrates without looking aside in these poems. Say what you will, he proves to us, in spite of the most debasing experiences that life can offer a man, the spirit of love survives to ennoble our lives if we have the wit and the courage and the faith — and the art! to persist.

It is the belief in the art of poetry that has gone hand in hand with this man into his Golgotha, from that charnel house, similar in every way, to that of the Jews in the past war. But this is in our own country, our own fondest purlieus. We are blind and live our blind lives out in blindness. Poets are damned but they are not blind, they see with the eyes of the angels. This poet sees through and all around the horrors he partakes of in the very intimate details of his poem. He avoids nothing but experiences it to the hilt. He contains it. Claims it as his own — and, we believe, laughs at it and has the time and effrontery to love a fellow of his choice and record that love in a well-made poem.



Hold back the edges of your gowns, Ladies, we are going through hell."

On behalf of Sprezzatech, I would like to thank the Georgia Tech Research Institute (especially Josh Davis, Dan Campbell, Dr. Richard Boyd and Seth Walters), the Georgia Tech College of Computing (especially Randy Carpenter, Professor Tom Conte, Professor David Bader, Professor Hyesoon Kim and Professor Rich Vuduc), and the Debian Derivatives Community (especially Paul Wise aka pabs) without whom this would have been impossible.

All opinions, statements of fact, tautologies and swearing, however, are mine.
That there's a Unicode symbol for radiation hazard (☢, &#x26ss; '☢') but not one for the EPA Corrosive Pictogram, the DOT Corrosive (8) Danger Class, or even good 'ol 67/548/EWG of the European Chemicals Bureau CPS&Q Unit is just more evidence of implicit nuclear-scarism on the part of the liberal arts, harumph! First against the wall.
ps: i turned 0x20 today (well, three days ago now; this came out a bit later than expected). thanks to everyone for putting up with another year of my bullshit.
we don't die; we multiply. hack on!
—nlb, aka nick tfm black, aka dank